Well, hello. Nice to meet you. I would love to hang out a bit with you in my kitchen. 
Why should you read this? Honestly, I don't know. Maybe because you like food and I do, too.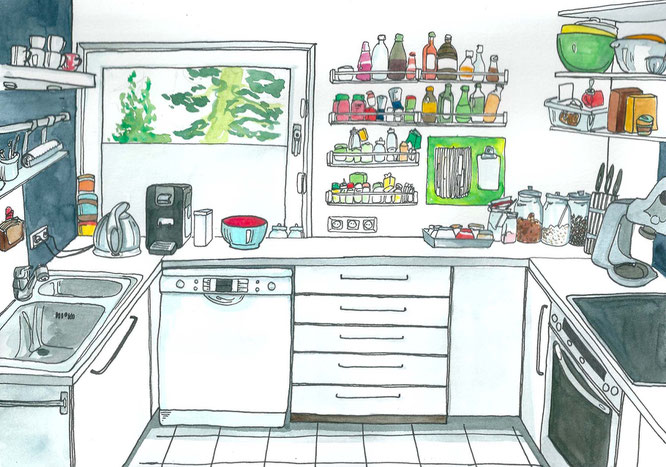 Maybe because I am cooking since I am nine and that makes it a whopping 34 years now. I try not to feel old while writing this. Or because I grew up in a household canning our own winter stash, having a root cellar and raising our own goats and poultry for meat? Would it be an argument that I snuck in and out of my aunts restaurant kitchen as a child? Or because I love to connect to foreign people and countries over food? Or that I worked as a food stylist later on? Maybe because I know how much it sucks, when some foods are off limits, because they just make you sick? Or because I am familiar with the strain of having to dish up something for my family week in, week out? Well, you decide. Maybe you always thought cooking sort of interesting, but had nobody to teach you. You know the everyday stuff, not some fancy french or whatever cuisine with a more or less approachable teacher breathing down your neck. No, the stuff cookbook authors think so minor, they never write about, and you never would dare to ask, because you don't want to feel like a total dunce.
Well, let me assure you, you are not stupid, only inexperienced. After frying 1.500 steaks I am sure you'll be able to snatch a perfectly cooked steak out of your frying pan. No matter, if you prefer rare, medium, or well done. But be assured that a goodly amount of the preceding 1.499 steaks will be well done though you intended them to be rare. That's fine. It's called learning. And let me assure you: I am not done with learning either.
So, I am going to ramble on about stuff in the kitchen and you can ask. If you don't ask I just chat on, hoping to entertain you a little.
Yours
Cornelia