It doesn't matter if you broke your rolling pin on a burglar, trying to enter your home, are on vacation without your trusty equipment, or just plain and simple never had one: You can roll out your short dough quite nicely without a rolling pin.

All you need is a bottle with a straight body and no raised patterns. Best works this celebratory wine bottle, you opened after defending your home successfully. 
Why a straight body?, you might ask. Everything else would cause a dinted and uneven surface, which would cause uneven baking and so impair the entire dish.
Cover the labels with a wet rag until you can remove them. Using warm water to wet your rag speeds the label soaking. Scrub away all residue of the glue. Make sure the bottle is absolutely clean, and no paper or glue remains. This would either make the pastry stick to your bottle, or impress little patterns in it. 

Dry the bottle thoroughly. Any remaining moisture will cause the dough to stick. You don't want that, right?
Take your dough out of the fridge, knead it on a lightly floured surface until it is smooth and pliable, but NOT warm! Dust the work surface with flour again, and don't forget to dust underneath the pastry, too. 

Short pastry loves cool handling. So, use your situation to your benefit! Hold your bottle and hands under cold water, until they are cold. Dry the bottle and hands carefully. The cold bottle and hands keep your pastry cool for a longer time. This makes it easier for you to manage it. But: Don't put your bottle in the freezer! Apart from the danger of cracking, an ice cold bottle is nasty for your hands, and water condenses as soon as the bottle is out at room temperature. This will cause the dough to stick like crazy, and all you get from your efforts is a nice illustration of the word "backfire".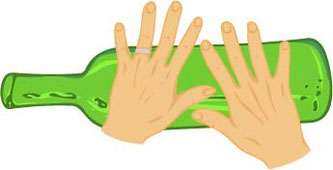 The bottle works like a roller. But as there are no handles, you have to place your hands directly on the barrel to move it. Stretch your hands as if you are blowing dry fresh nail polish, and alternate your hands a little bit. This increases the moving range of your makeshift rolling pin, and keeps your fingers away from the dough. No accidental holes in the crust for you! Move the bottle in a back and forth motion as you do it with the regular rolling pin. Do a few test runs to get a feel for it. Then place it on top of your pastry and proceed, as you do normally.