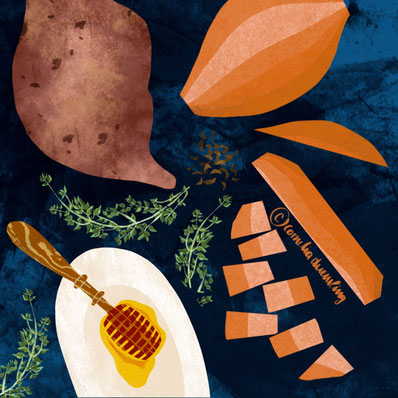 I challenged myself to illustrate one recipe per week for They Draw And Cook. I love this site and all the different styles and recipes to be found there. As a food stylist turned food illustrator illustrating recipes are always a fun challenge, and I welcome every chance to illustrate them.
This week I have chosen a recipe chock-ful with root vegetables. I think root vegetables are fabulous. Cooking-wise they are bursting with distinct flavors and colors. Some of them are incredibly bright. Sweet potatoes or beets for example are like riotous bursts of color. In fact the special pink of beet juice is a color that fascinates me since my childhood.
The recipe called for carrots, turnips, parsnips, celeriac, sweet potato, red and white onions, potatoes and beets. A lot of root veggies, right? And most have round or conic shapes in various hues of brown. This is where the fun begins for me. I have to figure out how I can depict them in a way that is easy to understand, but interesting and satisfying to the eye.
I start by thinking about the differences between them. Are there special textures or colors standing out? How could I recreate them without being super realistic, but easy to identify? How can I incorporate a little bit of joy? This is important for me, as I am convinced that cooking should be a satisfying activity.
There are always elements that stand out and enhance the story of the vegetable or the recipe. Take beets, for example: I decided to show most veggies with their peels on, which means for the beets they have a brownish-pink appearance. But - the stems! Oh my goodness, the stems are bursting in the brightest pink hues imaginable! They add so much fun and this is something I want to bring into the recipe. So stems on! The turnips come next. They are nearly white, but this little bit of green on top brings a freshness I want to have. So the green needs to be there as well. The potatoes got a little bit of dirt on, because this is how they look right now, but it also adds more visual interest. Sweet potatoes are, well, brownish, but on the inside they sport this bright orange. So in their case I decided to make an exception and "peel" them, to show of the inner brightness. Parsnips are a greenish beige. But on the inside they are creamy white. I decided to draw them with skin on and peeled, so that I would have a choice, in case I needed to add more light to the composition. Which I actually did in the end.
After going through all the vegetables I ended up with quite an interesting mix, and all the initial "brownness" became a unifying agent to showcase how exciting those vegetables truly are. It made me very happy to tease all that out of the veggies. Especially, because in the first moment they seem so boring. Making them shine and being vibrant was very satisfying. Which is the reason they are placed on the dark blue background. I wanted them to shine and sparkle like the jewels they are. I wanted to give the recipe the cozy feel, I connect with roasted root vegetables. They are fall impersonated to me, full of earthy richness for those who care to look closer. 
Got hungry? Then check out the recipe on They Draw and Cook !