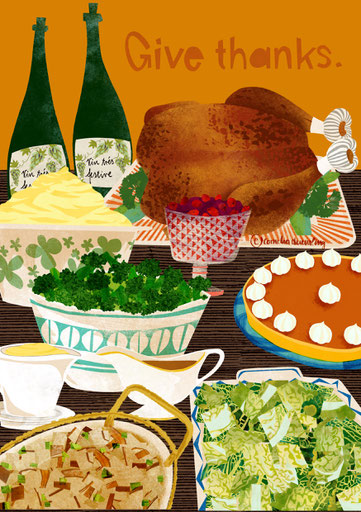 Thanksgiving is coming up this week and I will not celebrate it as I usually do. Thirteen years ago we started with two other families to celebrate Thanksgiving. Over the years routines and a menu developed and it is a meeting we are looking forward to all year.
You might ask, why does a bunch of germans celebrate Thanksgiving the U.S. american way? Well, quite easy: All of us have lived for a time in the U.S. or Canada and experienced what a central part of culture it is there. It is one of the rare time the frantic pace slows and people really sit down and relax. Something we saw happening seldom when we lived there. There was always a rush, rush, rush. This was one of the few times people aspired to cook a feast and took the time to enjoy it.
Having been exposed to the Thankdsgiving tradition alone would not have us motivated to celebrate it here ourselves. But then one of our friends is U.S.  american. And she missed home dreadfully. So we thought: "Why not?" We are not family, right, but we are friends, which is the next best thing to family. And hey, our ovens may be smaller, but we can buy turkeys here. Also the idea of giving thanks to god while hanging out with friends was quite appealing. 
Our Thanksgiving got stripped down to the basics: Giving thanks to god, hanging out with friends, and cooking and enjoying a feast. For obvious reasons we decided to keep the menu as close to the classic Thanksgiving Dinner in the U.S., with a few changes though.
Turkey and cranberry sauce are a must. As are mashed potatoes and stuffing. Who doesn't like their starches? But there will be no sweet potato casserole on our table. It just seems so weirdly sweet to our palates. We don't grow up on sweet potatoes over here and so we are not used to eat or prepare them. And the overly sweet way they are presented in many american casseroles is just overwhelming (marshmallows on a side dish?! Honestly, guys?). So, nope, this one was out without thinking about it very long. In the end we settled on a gratin of savoy cabbage and steamed broccoli with sauce hollandaise. They might be a bit european, but they are right up our alley, and the kids will eat at least the broccoli. And home made hollandaise is a treat. The savoy cabbage is a bit more adult and seasonal. Most years there will be also a big, fat salad of mixed greens, dried cranberries, pine nuts, and blue cheese to add a bit freshness. I think in the first two or three years we experimented a bit, but it settled soon into this menu.
Then all that's left is dessert. Well, somehow it has to be pumpkin pie. It is like the epitome of Thanksgiving Dinner, right? Pumpkin is the other thing we are not used to a lot over here. In Germany pumpkin is prepared almost exclusively in savory dishes or pickled (which is kind of weird, too). But all of us had it tried in their time in Northern America and decided that it was something quite nice if done properly (aka made from scratch). So it ended up on the official menu. But as we are all stuffed after the delicious turkey and sides we don't bother with more pies. No pecan pie, or chocolate or whatever. A slice of pumpkin pie is all we manage at the end of the meal. After I realized I can't eat gluten anymore, the pie will be either with a gluten free crust or I bake it in cups like a pumpkin pot de creme. All the yummy filling without the crust. Mmmmh. And after the kids arrived, it turned out they not all were keen on the pumpkin taste. So créme brulée got added to the mix. It was a great addition, because a) all the kids love vanilla and caramel, b) torching it is marvellous entertaining, and c) cracking the caramel layer is another fun element. 
This has been the menu for some ten or eleven years now and everybody is looking forward to eating it and wouldn't dream to prepare theses dishes on any other time of the year. They have a place where they belong and in order to keep them special they are instinctively kept apart from the rest of the year. Funny enough the kids are the most vehement guardians of the menu. 
And even the work has been divided neatly over the years. Everyone knows what they'll bring to the table and who is going to cook which dish and decorates the table. That ensures no one is overwhelmed by all the cooking, we have a beautifully decorated table, and everybody has time to enjoy the time together.
Right from the beginning we had to make adjustments: Instead of a family feast it was a feast with friends. The historical background wasn't relevant, as most of us do not relate to U.S. american history. The classic celebration on the 4th thursday of November is not working here, as it is not a holiday. So we try to get as close to the actual date as our calendars allow and celebrate on a saturday. And this year, well, this year we have to make a bigger adjustment. We already had a date selected, but then the next lockdown came. Now we cannot meet and have to postpone. The kids voted that they don't even want to celebrate a small version of Thanksgiving as it wouldn't be the same without the others. So we all decided that we will celebrate once we are able again. It might be that even though 2020 will be the year Thanksgiving fell through for the first time in 13 years, but then 2021 will be the year we celebrate Thanksgiving twice. And that is fine, there is always much to give thanks for.
I wish you a very lovely Thanksgiving no matter how, where or when you celebrate!
Cornelia
P.S. To get a bit over the sadness, that Thanksgiving will be postponed I decided to draw what we would have eaten. If you want to see the spread in all its glory head over to www.theydrawandcook.com . And, yeah, there is a pecan pie on the spread. Because this year I might make one, just to have a little Thanksgiving feel without infringing on "the menu". Who wants revolting teenager, right?